Advanced Administrative users (requires the Enterprise package) can now create new Follow-Up schedules that are based on a case/volunteer record status. The most common Follow-Up of this kind is for Match Support and Match Anniversaries.
You can add Case/Volunteer record Follow-Ups by navigating to the Admin folder and accessing the Program of interest: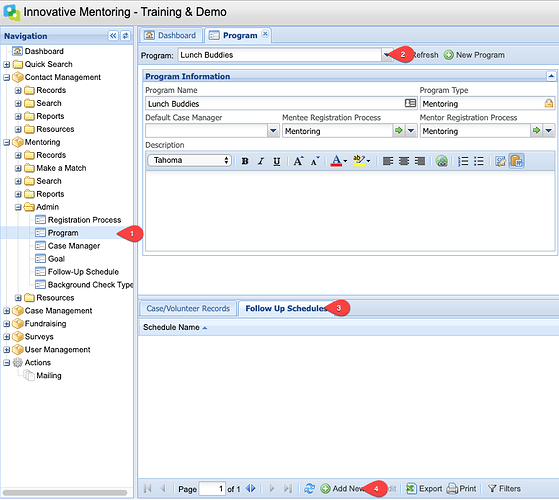 Once you have selected the program of interest,
Select the Follow Up Schedules tab, and

Click the Add New footer button.

Complete the following prompts:
a. Schedule Name: Name your Follow-Up Schedule so that it will be easy to decipher what program it is for, what role it is for, and the type of Follow-Up that will be completed:

b. Database Role: Select the database role to which the Follow-Up should be assigned (Mentoring Module: Mentor/Mentee; Case Management Module: Client/Volunteer).

c. Status: Select the status that should trigger the Follow-Ups. For example, for Match Support, you will specify "Matched," while for client Post-Program Follow-Up you may select "Closed."
d. Action: This will indicate the type of Follow-Up or action the user should take (use the Green + icon to add a new action to the Lookup):


From the Follow Up Schedule, you can change the Schedule Name, Action, and Priority.

Determine whether Follow-Ups should be assigned to a specific user or to the Case Manager tied to the Case/Volunteer Record.


If you would like to explore any of the Miscellaneous Settings, please contact our support team for assistance.

Enter the first schedule in the Schedule Detail section by clicking the Add New button.

From the Schedule Detail pop-up screen, enter the first sequence:
Schedule: Select from the standard options (eg - weekly, monthly, quarterly)
Multiplier: Enter the number of [weeks/months/quarters/year, etc.] that should go by before the system generates the next Follow-Up. For example, if the Schedule is "Monthly," the multiplier is the number of months before the next Follow-Up generates.
Repeat: Enter the number of times this schedule should be repeated in total; if more than one schedule is built for a Follow-Up, this will be the timeframe in which the system should advance to the next schedule.


Continue adding sequences until the schedule is complete.
Note: To repeat a sequence indefinitely, enter "0" in the Repeat field.

Keep in mind that if you enter a sequence and enter "0" in the Repeat field and then add a subsequent sequence, the system will never advance to the next sequence.
Follow-Up Generation
Follow-Ups are generated twice daily (once in the morning and once in the evening). To generate the Follow-Ups on demand for the schedule you created, click the Action menu in the upper right corner and click the Generate Follow-Up option: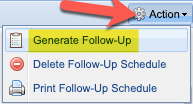 Copying Follow-Up Schedules to New Programs
Once a Follow-Up Schedule has been created, you can copy that schedule forward when creating new programs in your database.