The following are the details our team needs to proceed with setup:
IMS Donation Types:
One or more donation types in IMS can be automatically exported to your QuickBooks account:

Which donation Types would you like to sync with QuickBooks?

IMS Donation Start Date :
Choose the start date you want to use for importing donations to QuickBooks. Donations in IMS with a date earlier than this date will NOT be imported into QuickBooks.

What start date should we enter?
Important Notes About the Integration:
Integration with QuickBooks is one-way. Donors and donations created in IMS will flow to QuickBooks but not the reverse.
Donors will be imported as customers in QuickBooks and matched based on email address. If the customer cannot be found in QuickBooks using the primary email address in IMS, it will get created as a new customer in your QuickBooks Account.
Only donors with at least one donation record to be imported will be synchronized with QuickBooks.
Donations will be imported as Sales Receipt transactions deposited into the bank account specified below.
Once the setup is complete, you will need to authorize QuickBooks Online to allow IMS to synchronize with your QuickBooks account. You will receive an email with a link that takes you to page like this: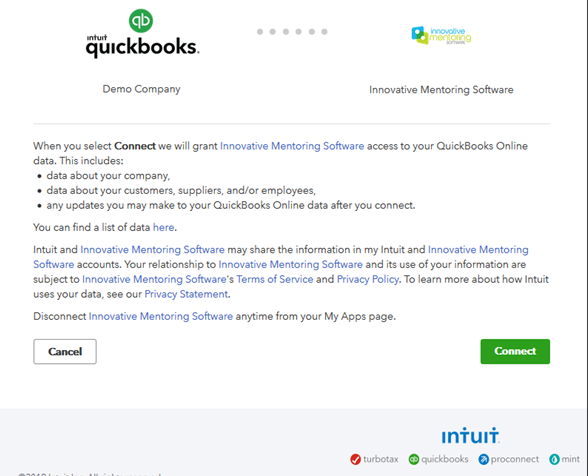 QuickBooks Account Name :
The QuickBooks account must be of type "Bank". It should be the same account in which the actual donations are deposited for reconciliation purposes.


Notification Email Address:
QuickBooks Online will occasionally need to request your permission to allow IMS to synchronize with your QuickBooks account. If you do not receive the notification emails or fail to complete the authorization, IMS will stop synchronizing contacts & donations to your QuickBooks account.