Innovative Mentoring Software uses an enterprise email provider called SendGrid to send emails from the database using your users' email addresses. To ensure the best possible email delivery from your Innovative Mentoring database, we recommend configuring an SPF (Sender Policy Framework) record for your email domain to include sendgrid.net. This only works for users with a custom email domain like @youthmentoring.net. This is something that gets configured on your external DNS provider (using your domain registrar).
You can configure it yourself or work with a different IT consultant. If you have an existing SPF record, you'll need to customize it. A new SPF record supporting SendGrid would look like this:
v=spf1 include:sendgrid.net ~all
Here is some additional information on this from SendGrid's user guide: SPF Records Explained | Twilio.
Once that is set up, you should see the SPF record here: Network Tools: DNS,IP,Email (1. Enter your domain name. 2. Select the option "SPF Record Lookup" from the dropdown menu and click the orange SPF Record Lookup button).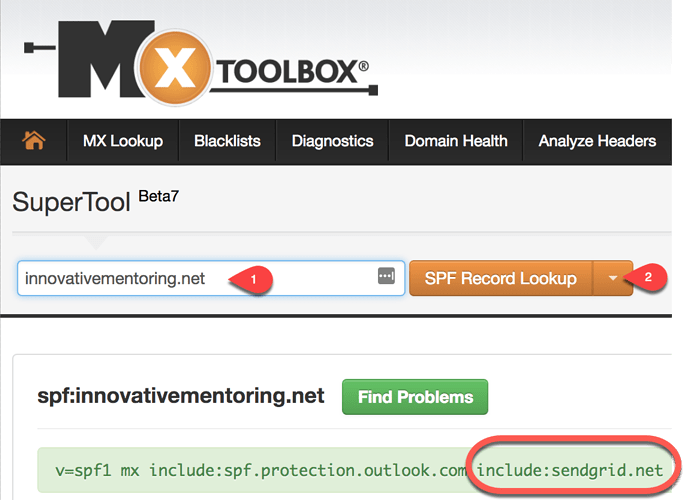 If you would like assistance from our support team about this topic, we charge a support fee of $120/hr. billed in 15-minute increments. Please submit a support ticket to request this help. For best results you should also work with us for enhanced DKIM DNS records.