Go to the Match Search screen.

Select a Program.

Then choose the Activities tab (if it's grayed out click the button Also Search For Activities).

Add any additional criteria like a date range

Tip: To add a date range, click on the Filter options button that appears when you click in a date field and select one of the dropdown menu options: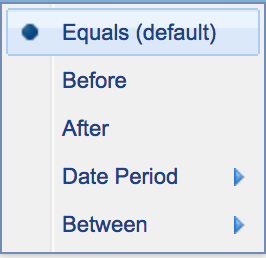 Run Search

Click on the Activity Results tab to see the details on all of the activity hours. You can also send this to the Activities by Period report. Click the Send to Report button. On the report, select the period schedule, start period and number of periods and then click Run Search.


Click here to learn how to save your common searches to your Quick Search Folder.