When a background check submission fails, the designated user(s)* should receive email notification of the failure to the email address associated to their user account. If you do not receive such email notification, it may indicate that your SPF record needs to be updated.
Additionally, users are able to run a search to identify background check submissions that have failed using the following criteria (with any additional filtering to meet your specific needs):
Review your Results
From the Mentor Search screen, navigate to the Background Checks tab. Select the Submit Status of "Failed" and run your search:

From the results screen, select the Background Check Results tab to see the failed submissions.

Identify the Reason for the Error
The Error Message indicates the reason for failure. Review the mentor record and take action to correct the error, which may mean correcting an incorrect birthdate or invalid state code or requesting they compete the online application, for example.
Correct any Errors & Resubmit the Background Check
Once the cause of the error is corrected, simply resubmit the background check manually from the IMS database. Please note: Innovative Mentoring only knows about Sterling Volunteer orders that are submitted through the IMS database. Innovative Mentoring cannot receive orders that are placed directly from the Sterling Volunteers Dashboard. Therefore, any new or resubmitted requests must be done from the Background Checks tab or the Submit option available from the Mentor profile.
Select the mentor record from the Search or use the Lookup option from the Mentor record to pull up the record. Navigate to the Background Checks tab and select Submit.

At the prompt to replace the existing submission, select Yes.

Review the details that will be sent with your background check request and once satisfied, select Submit. Note: You will be alerted of any remaining errors with the mentor record and must correct them to continue.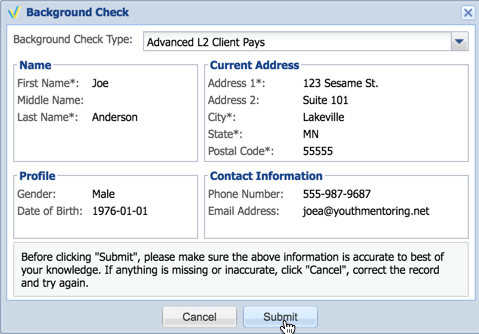 Your request will be resent to Sterling Volunteers and the background check review process will resume.
*The designated user(s) are defined as part of your initial Sterling Volunteers setup and can be changed upon request.